Pest Prevention: 6 Simple ways to Protect Your Garden from Pests
Many people consider their gardens to be their own personal outdoor havens. With this in mind, they are keen to keep the garden looking as attractive as possible as well as ensuring it is a safe outdoor environment for the family to enjoy. A key aspect to ensuring you have a safe and attractive garden area is to take steps to protect it from pests, which can otherwise have a devastating effect on your outdoor area.
Whilst we of course deal with a range of types of pest control, some basic pest prevention is easy to do yourself. There are various steps that you can take in order to protect your garden from pests and the variety of potential problems that they can bring with them. With the right methods, you can minimise on garden pests without breaking the bank or putting your health at risk.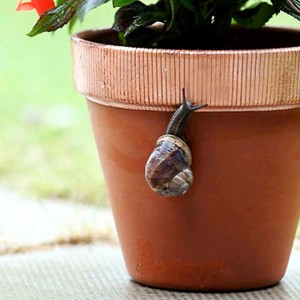 Copper Tape by Dobies
6 Simple pest prevention tips
Your garden is at risk from all sorts of pests such as snails, bugs, slugs, caterpillars, wasps, mice, vermin, and many others. These pests can damage your garden and bring disease, so it is important to take steps to keep them under control. Some of the simple pest prevention methods to help keep your garden pest-free include:
Use copper: If you have a problem with snails or slugs, using copper tape can help. You simply run the tape along the timber edges of vegetable patches or use copper rings around perennials that may be at risk. The copper delivers a subtle electric shock to slugs and snails thus acting as a deterrent.
Use pheromone traps: You can invest in pheromone traps, which imitate the scent of female insects. They naturally attract males, which then get stuck in the trap. This reduces the risk of insect breeding, which means a safer garden environment.
Use netting: You can also use protective netting to protect against insects. The netting will provide complete protection to stop insects launching attacks on your vegetables.
Use environmentally friendly repellents: You can purchase environmentally friendly repellent to protect your plants and garden from pests such as snails and slugs. These are made with eco-friendly ingredients, which means that you will not risk harming those that use the garden but can still benefit from effective protection.
Use rapeseed oil products: Another option is to use natural products that contain rapeseed oil, which is obviously safe for humans and pets but can kill smaller garden pests through suffocation.
Fill & check nooks and crannies: hedges, small trees, under shed roofing, and other spaces with supporting structures and some shelter from the wind and rain can offer an ideal host spot for wasp nests and other nests. Fill under-shed roofing with insulation or sponge, and check other crevices that cannot be filled whenever you can.
It is worth remembering that insects are not the only pests that can create problems when it comes to your garden. Larger creatures such as rabbits, birds and foxes can also cause potential problems and hazards. In order to provide protection against larger pests, it is well worth ensuring you have a solid, high fence erected in the garden.
This will help to reduce the risk of these animals getting into your garden and can also help to create an attractive feature for your outdoor area. In addition, high fencing will help to provide you with a greater degree of privacy so you can enjoy your garden to the full.
We hope you found this information useful – let us know via Facebook or Twitter what you'd like to learn more about, or what you found most interesting!